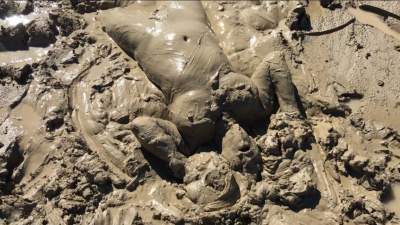 Starring the following model:
| | |
| --- | --- |
| File count: | 1 |
| Total size: | 305.21 MB |
| Total runtime: | 8 mins, 57 secs |
| Date added: | 7/09/18 |
| Year produced: | 2018 |
| Product ID: | 09 |
| Views: | 2312 |
| Scene ID: | 29280 |

$6.99
This is was filmed at the same time as the scene Stuck. This is what happens directly after...It's the summer! My friend Leilani and I got a chance to go "swimming" so we went out in search of a good place to have some muddy fun together. (Thank you, Google Earth!) We found a lake not too far away and it turned out to be solid gold. Pay dirt. Literally. As soon as I saw the deep cracks and the sediment I knew this was the place. The video begins with me in a nice thick muddy spot wearing black panties. I usually do this naked but I have been having a fascination with muddy underwear lately, so again I wore an old baggy trasher pair that was bound for the bin, anyway. As the mud starts to saturate my panties in the front and I feel the cold creamy mud on my clit, I become visibly aroused. I can feel it getting inside my pants and the feeling of my ass all wet causes me to start to thrust and moan. Now, full on horny, I take my panties off and find the nicest soft spot to grind on. I begin to roll and writhe around. I ditch the panties and let the cool mud hug my pussy. I roll backwards in ecstacy and bury my head backwards and upside down. I go fully under, each time coming up and enjoying the surreal feeling of all that thick mud enveloping my head. I rub my clit, overstimulated from how good the mud feels on my crotch. I wish I would have kept filming, but I promise you, I spent the whole day humping that mud. It felt soooooo good! I came a thousand times.

Report